My musical accomplishments...
...So there we were...I had Frank's wallet ...Dino had Sammy's wallet...and Joey had to buy us all lunch!
Oh Hello! Welcome to my link!
Before I continue, I must point out that I showed up for this photoshoot a bit late. Most of the fellows took my miscalculation with good nature and understanding but Frank never forgave me for it and that may have contributed to my decline on the Las Vegas strip and in showbiz in general.
Anyway, Here's a pictorial of my musical career...

My Posse..
This was a time when we were KINGS!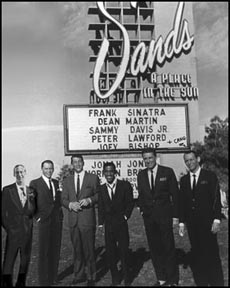 I was urging the photographer to hurry up with this shoot 'cause the welt on the left side of my head was beginning to swell!
Anyway, after my split with the "PACK" I continued my musical endeavors in smaller avenues such as my sporadic appearances at the Marroe Inn in N.J. and as a guest celebrity at a local golf outing adopting an "Elvis" like persona thrilling crowds in excess of twenty or more!..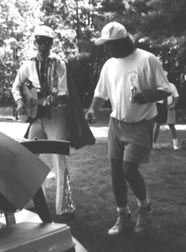 That's me on the left performing with the "Jimmy Vincent Orchestra" and on the right is me and my good friend "Fish" who inherited his name but adapted to it with a great deal of "zeal".