Peggy Lee Is Star Of Copacabana Show
Tips on Tables – By Robert W. Dana – February 7, 1958
A great performance demands the respectful attention
of the audience, even in a nightclub, where glasses, silverware and careless tongues can create a distorted and annoyong symphony of noises. You could hear the proverbial pins dropping all over the Copacabana last night as the well-behaved customers paid tribute to Peggy Lee at one of her greatest triumphs.
Nobody wanted to talk. Everybody wanted to hear and to see Peggy. With a provacitive short coiffure called the chrysanthemum cut and in a beautiful gown Peggy sang about a dozen numbers that proved her opening and closing musical assertation: "Life is for living, so alive."
Warmth and Rhythm
As I recall the richness, the warmth, the exciting rhythm and the naturalness of her performance, I try to pinpoint the high spots. Since there were no low ones, this is a task. I think the most talked about number will be the one which she dedicates to the gentlemen, but which, she says, really is for the ladies. 'Don't fool around with calico when you have silk at home" is the theme.
Peggy opened with "Just In Time," "My Heart Stood Still" and "What A Little Moonlight Can Do" before issuing this well-put ode to the married gal, and she continued with "Jump For Joy"(a hand-clapping audience prompter) and "When My Sugar Walks Down the Street."
Probably the most impressive number Peggy sang was "How Long Has This Been Going On?" backed by six violins, bass, piano and the entire Michael Durso orchestra with the trombonist giving a muted punctuation signal at a given moment. Very effective, too, was "Fever,"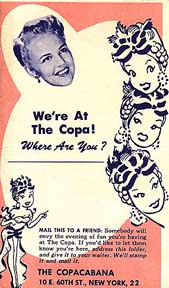 "St. Louis Blues" and a clever novelty called "Nothing."
Bernie's Success
Even if Miss Lee hadn't made her appearance, the evening would have been a rousing success because of At Bernie, who has survived the brickbats of this and other critics in years past to become one of the country top comedians He has a wide range of material and his style is not confined to one groove, like gag-shooter, storyteller etc.
Also new in this Copa show are the Four Esquires, four right handsome lads who score with, "Love Me Forever" and "Make Love to Me." They have good voices and good arrangements.
Among the holdovers , praise is due Danii and Prior, exciting production dancers, and singers Ted Morrell and Mimi. My only regret is that I didn't have a tape recorder with me last night. Peggy Lee was great.